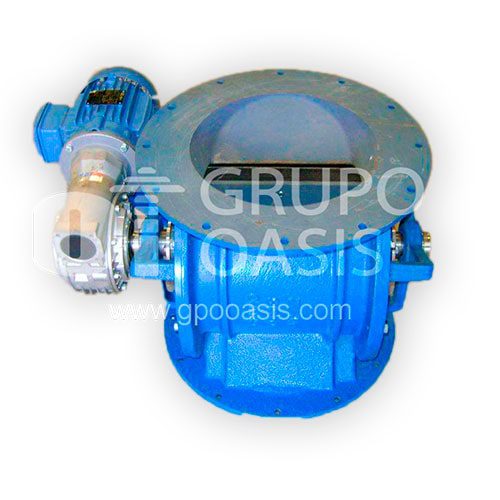 Rotary Valves manufactured in Grupo Oasisare robust and safe equipment, which provide high performance and efficiency during their operation.
That is why we seek to advise our clients to provide them with the best option in the equipment they require, in addition to ensuring their quality and performance.
Our Rotary Valves, are designed by our engineering department and manufactured from cast steel and / or plate, and internally machined in body and caps with the option of adjustable rubber extensions or solid rotor, depending on the material with which it will be in Contact.
We recommend the use of Rotary Valves
for the following applications:
DYNAFLO® collector discharge
DYNAFLO® Cyclone Discharge
As a tool for neumatic transport systems, among others.
The versatility and quality of our equipment is guaranteed.
Grupo OASIS fabricamos colectores de polvos humos y neblinas. La versatilidad de nuestros Colectores de Polvos, Humos y Neblinas marca DYNAFLO®. brand, the attention to detail during the manufacturing and installation process allowed us to work in Mexico and United States.Nuestros clientes de las industrias agroalimentaria, cementera, química, cerámica, automotriz, acerera, entre otras más nos respaldan.Nuestra amplia gama de productos como colectores de polvos, colectores de humos, colectores de neblinas, ciclones, colectores de humos portátiles, ventiladores industriales, válvulas rotatorias, filtros y refacciones, además de proyectos llave en mano, capacitación y mantenimiento de equipos nos permiten brindar servicios integrales. Los productos que diseñamos y fabricamos proporcionan a nuestros clientes la seguridad de contar con soluciones a la medida, esto, gracias a la ventaja competitiva que nos brinda el tener un gran equipo de trabajo, bien así, en el departamento de ingeniería, en donde se analizan, conceptualizan y diseñan los equipos y sistemas para cumplir los más altos estándares de calidad a nivel mundial.