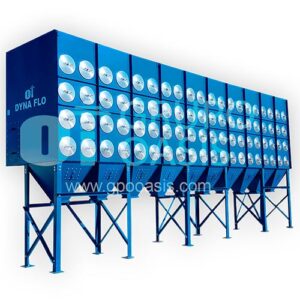 Cartridge Type Dust Collectors
The Dust Collectors Cartridge Type DYNA FLO®, están diseñados y fabricados para extraer partículas finas de hasta 0.5 micras. Su principal función es captar el aire a través de campanas de succión, filtrarlo eliminando partículas que pudieran resultar ser nocivas para la salud y el medio ambiente. Otro aspecto importante es que el aire limpio puede volver a inyectarse al interior de las instalaciones mejorando la calidad del aire para los empleados o también puede liberarse a la atmósfera sin contaminantes. 
Los polvos capturados por el sistema de filtros del colector, se descargan a través de otros sistemas integrados como son el transporte helicoidal, válvula rotatoria, válvula de doble contrapeso, tapa para tambo, entre otros.
Benefits of Cartridge Type Dust Collectors
Optimized to be installed inside or outside industrial buildings, ideal for small spaces.
It does not require complicated foundations for its installation.
Being a system with automatic cleaning (pulse-jet) and using a smaller number of filters, maintenance is performed in less time.
Compared to a bag collector, 1 cartridge filter is equivalent to 92% less space, making its performance more efficient.