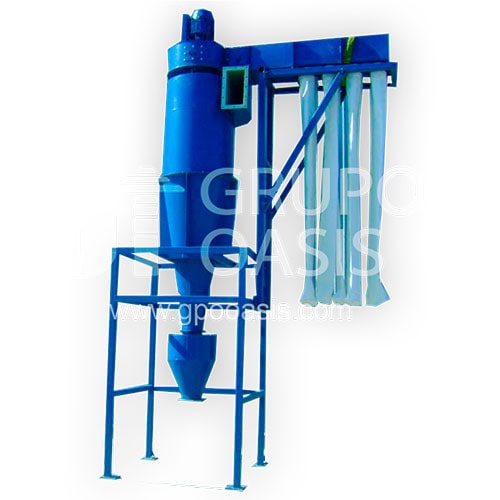 Brand Cyclone Type Dust Collectors DYNAFLO® Brand, they are mechanical separators that use the principle of centrifugal force to remove solid particles from an air stream.
Our collectors are designed by our highly experienced engineering department, which allows us to calculate the dimensions of the equipment and the input speeds required for its operation, this gives us a competitive advantage and allows us to offer a better service to our clients.
Some of the characteristics of the brand Cyclone Dust Collectors DYNA FLO®, are its capacities that go from 300 to 13,000 cubic feet per minute individually, allowing our equipment to operate with high efficiency and effectiveness in the separation of powders, thanks to the high input speeds during spinning.
In case the speeds are not well calculated, the cyclone will not function as a mechanical separator.
Benefits of Cyclone Dust Collectors:
Flexibility and versatility in design.
Efficacy and efficiency in the separation of particles.
It is important to highlight flexibility and versatility to make adjustments in the design, since in some cases clients have specific needs, so it is necessary:
To increase the efficiency of the collector, it is recommended to include a bag post-filter or, in its absence, the most suitable equipment in the fan discharge to capture fine dust that the cyclone does not capture.
Grupo OASIS fabricamos colectores de polvos humos y neblinas. La versatilidad de nuestros Colectores de Polvos, Humos y Neblinas marca DYNAFLO®. brand, the attention to detail during the manufacturing and installation process allowed us to work in Mexico and United States.Nuestros clientes de las industrias agroalimentaria, cementera, química, cerámica, automotriz, acerera, entre otras más nos respaldan.Nuestra amplia gama de productos como colectores de polvos, colectores de humos, colectores de neblinas, ciclones, colectores de humos portátiles, ventiladores industriales, válvulas rotatorias, filtros y refacciones, además de proyectos llave en mano, capacitación y mantenimiento de equipos nos permiten brindar servicios integrales.