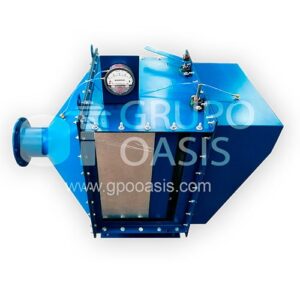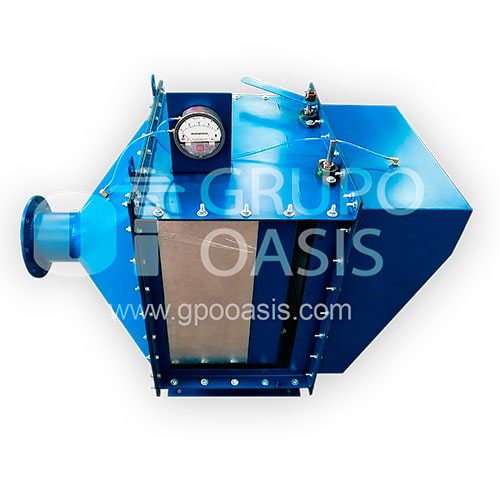 Filter Drawers DYNAFLO®️brand are high resistance and efficiency equipment, whose main function is to discharge and inject clean air, normally these are inside the collectors, but they can also be externally according to needs.
They offer various solutions and are ideal for the control of very fine powders, which can escape during production processes, this type of equipment is designed to adapt based on customer requirements, and also contributes to improving the filtering process. improving the performance of the collectors.
Filter Drawer Applications DYNAFLO®️ they are versatile, such as, for example: to inject air from the outside into a warehouse, filtering the dust or particles that could contaminate the work environment.
In addition, another advantage of these teams is that, as they are custom designed, they are adapted to the different workspaces that are required.
Grupo OASIS fabricamos colectores de polvos humos y neblinas. La versatilidad de nuestros Colectores de Polvos, Humos y Neblinas marca DYNAFLO®. brand, the attention to detail during the manufacturing and installation process allowed us to work in Mexico and United States.Nuestros clientes de las industrias agroalimentaria, cementera, química, cerámica, automotriz, acerera, entre otras más nos respaldan.Nuestra amplia gama de productos como colectores de polvos, colectores de humos, colectores de neblinas, ciclones, colectores de humos portátiles, ventiladores industriales, válvulas rotatorias, filtros y refacciones, además de proyectos llave en mano, capacitación y mantenimiento de equipos nos permiten brindar servicios integrales. Los productos que diseñamos y fabricamos proporcionan a nuestros clientes la seguridad de contar con soluciones a la medida, esto, gracias a la ventaja competitiva que nos brinda el tener un gran equipo de trabajo, bien así, en el departamento de ingeniería, en donde se analizan, conceptualizan y diseñan los equipos y sistemas para cumplir los más altos estándares de calidad a nivel mundial.
Cajón de filtros.