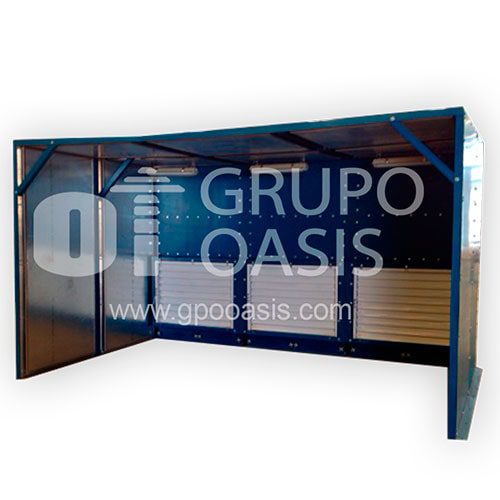 Work stations DYNAFLO®️brand are equipment designed to measure based on the needs of the clients, these allow workers to carry out their various processes with safety and efficiency, the versatility of these allows companies to locate them in small spaces, optimizing them.
Our equipment allows the collection of powders by means of a perforated plate on the table and below this the filtering process is carried out through cartridge-type filters, which capture the particles avoiding possible damage to health and improving the environment of job.
The application of Work Stations DYNAFLO®️ can be varied, among the main ones, there are stations for polishing parts, welding, cutting, etc.
Grupo OASIS fabricamos colectores de polvos humos y neblinas. La versatilidad de nuestros Colectores de Polvos, Humos y Neblinas marca DYNAFLO®. brand, the attention to detail during the manufacturing and installation process allowed us to work in Mexico and United States.Nuestros clientes de las industrias agroalimentaria, cementera, química, cerámica, automotriz, acerera, entre otras más nos respaldan.Nuestra amplia gama de productos como colectores de polvos, colectores de humos, colectores de neblinas, ciclones, colectores de humos portátiles, ventiladores industriales, válvulas rotatorias, filtros y refacciones, además de proyectos llave en mano, capacitación y mantenimiento de equipos nos permiten brindar servicios integrales. Los productos que diseñamos y fabricamos proporcionan a nuestros clientes la seguridad de contar con soluciones a la medida, esto, gracias a la ventaja competitiva que nos brinda el tener un gran equipo de trabajo, bien así, en el departamento de ingeniería, en donde se analizan, conceptualizan y diseñan los equipos y sistemas para cumplir los más altos estándares de calidad a nivel mundial.